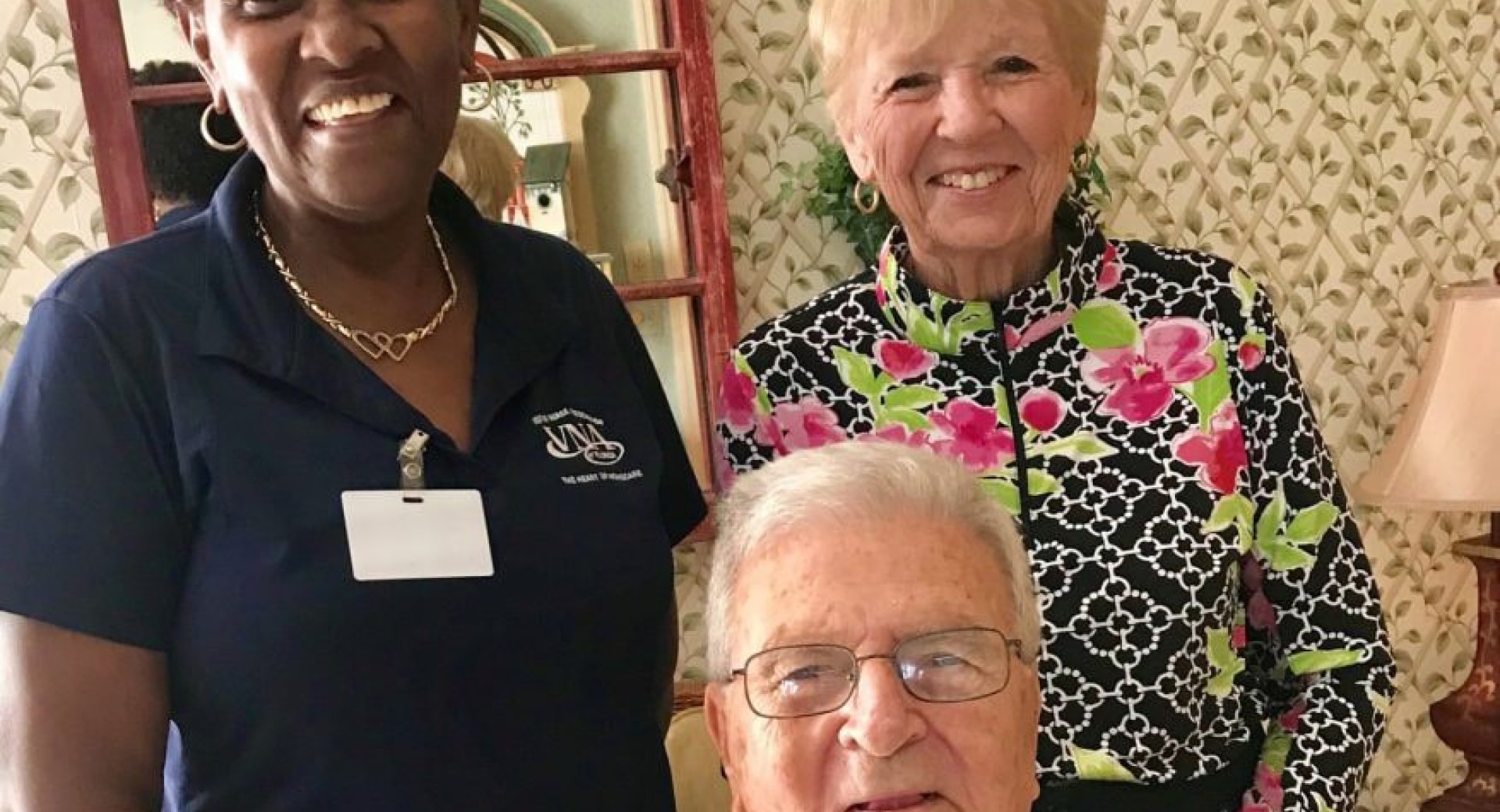 Vincent and his wife Lynne have lived in Florida for 27 years. They relocated from Philadelphia, PA, after retiring from their respective professions as a teacher and shoe manufacturer. They chose their home in Florida because it's in a community with two golf courses, and Vincent and Lynne both enjoy playing golf.
A little over a two years ago, Vincent fell and broke his ankle. He spent time in a rehabilitation center before receiving a recommendation for home healthcare services from the VNA of Florida. Although they hadn't used VNA services before, Lynne and Vincent followed the recommendation from the rehabilitation center staff members and used the VNA's skilled nursing, therapy, and personal care services to help Vincent's broken ankle heal. When he was almost recovered, however, he suffered another unfortunate setback—a stroke.
After spending an additional four months in a rehabilitation center, Vincent was able to return home yet again. Right away, Lynne requested home health services from the VNA. Patricia "Pat" Weir became their certified nursing assistant (CNA), spending five days a week at their home caring for Vincent.
"I couldn't do it alone. Now I'm able to go out and do things and I have no worries. We can trust Pat completely," said Lynne.
Every day, Pat helps Vincent with bathing, dressing, meal preparation, exercising, and more. She also takes him for walks down the street, to get his hair cut at their community's spa, and out for dinner.
"I can't do anything without Pat. She's wonderful," said Vincent. "I feel very lucky to have her."
One of Pat and Vincent's favorite thing to do together is sing. "We often sing gospel songs together, like Bringing in the Sheaves," Vincent said with a smile.
Pat has over 15 years of experience working in assisted living, hospice, and home health care, but says she enjoys her current job with the VNA the most because she gets to care for wonderful people like Vincent.
"When I come here, it feels like home," said Pat. "They are like family to me."
Vincent and Lynne are happy to have Pat helping on a daily basis and are thankful for VNA Personal Care Services.
Our certified nursing assistants (CNAs) and home health aides (HHAs) play a vital role in patient's lives. They provide personal care to clients and assist them with daily activities, such as bathing, eating, and medication reminders, and they also offer companionship, socialization, inspiration, hope, and so much more.