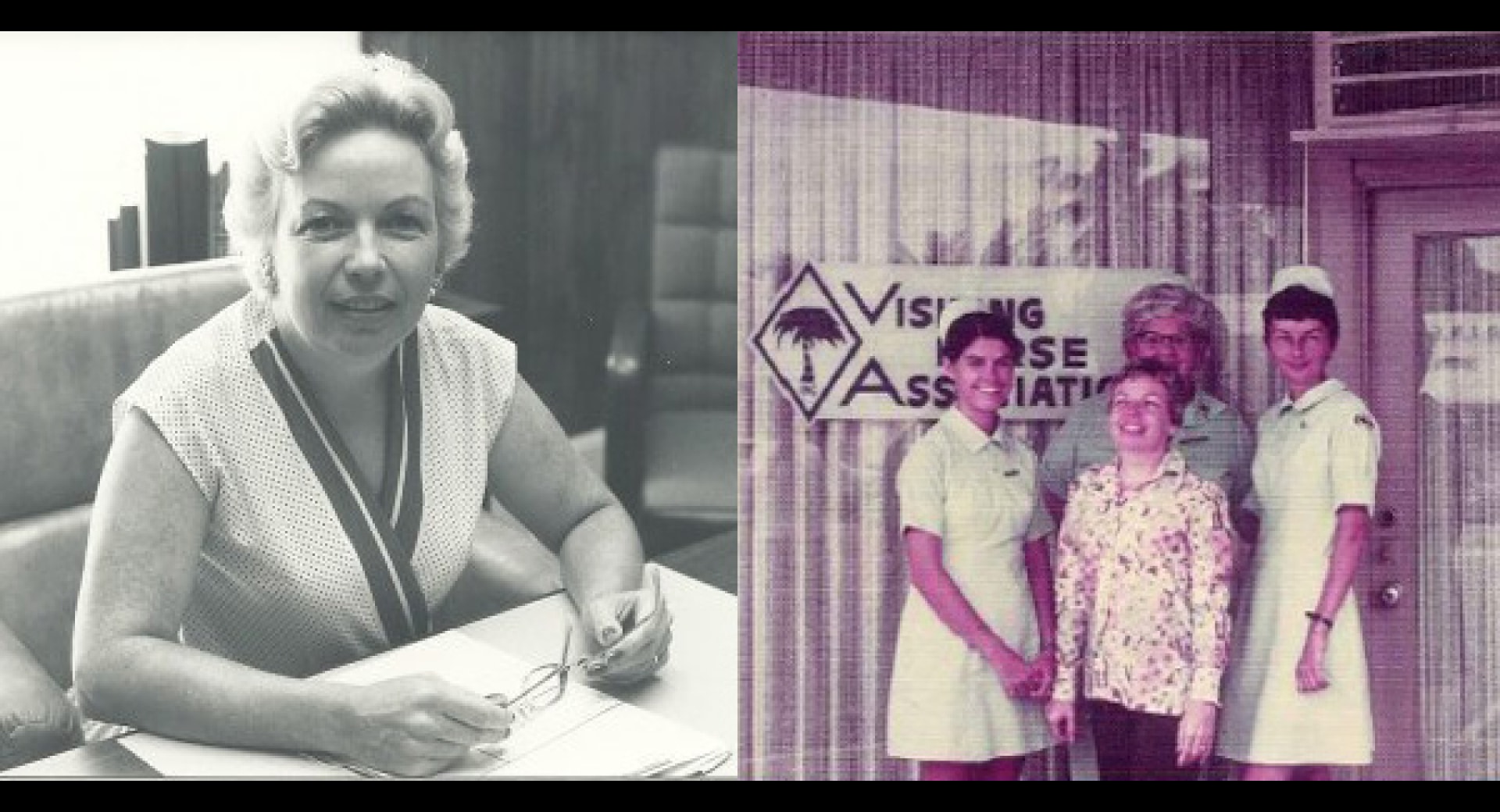 CHEERS TO FORTY!
Four decades ago, VNA of Martin County, before it became Visiting Nurse Association of Florida, established its roots in our community. It was founded on the belief that anyone recovering from illness or injuries deserved in-home professional nursing care, regardless of their ability to pay.
Celebrating its 40th year in operation, VNA of Florida has conducted more than 2 million patient visits and received multiple national awards for quality of patient care and satisfaction. The nonprofit has built its brand on professionalism and putting the patient first while continually adapting to the ever-changing healthcare industry.
"More than anything," says CEO Don Crow, "the credit for our success could not be achieved without the dedication of our clinical staff and key employees that have been with the company for over 20 years. The work they do is just incredible."
In 1976, Patricia Quinn Crow took a bold stand to save Martin County's only option for home healthcare. Initially just a small 3 satellite office of the much-larger Palm Beach Regional VNA, the Martin County branch faced closing its doors when the parent operation suffered financial strain. Patricia Crow, who was hired by Palm Beach Regional VNA to run the Martin County operations, quickly formed a local board of professionals to establish support and opened a VNA of Martin County that could stand on its own. Patricia Quinn Crow, who had once worked on Madison Avenue, started with one nurse and one patient in a small office in downtown Stuart.
"The patients coming out of the hospitals were coming out quicker and sicker, so the level of care needed at home was more intense," said Patricia Quinn Crow. "Consequently, we were increasing the levels of service – even doing chemotherapy in the home."
Joining the VNA as a financial consultant in the 1980's, her son, Don Crow, later advanced to chief operating officer, and then finally to CEO when Patricia Crow retired. Coming from a background in home-health consulting, Don Crow brought a savvy business mind to the organization. He introduced important efficiencies and new services that would aid in his guiding the company successfully through the many challenges and budget cuts that ravaged the industry in the 1990's
The VNA of Florida now covers 15 Florida counties, employs more than 700, and has a current patient census of more than 1000. The company is also a parent to many other companies Don Crow has launched during his tenure. The Visiting Nurse Foundation is the funding arm of VNA's indigent care and supports Florence Nightingale Express. The Visiting Nurse Mobile Clinic provides free healthcare to the uninsured and underinsured. He added private care nursing and caregivers, a concierge service line for patients and clients looking for extra services beyond healing, and visiting physicians that have brought back the house call. His longtime vision turned into reality when the first VNA assisted living community opened in Okeechobee in 2011. A few years later, Grand Oaks of Jensen Beach opened, and Grand Oaks of Palm City will open in the summer of 2016.
As the VNA of Florida celebrates its 40-year milestone, the company is trumpeting its latest triumph of a 4.5 out of 5-star rating by the Center for Medicare and Medicaid Services (CMS) for achieving high quality patient outcomes. This rating puts VNA of Florida in the top 8 percent of healthcare providers in the nation.
"We never stop innovating and seeking ways to improve for our patients," says Don Crow. "To us, and in our industry, standing still may as well be moving backwards."