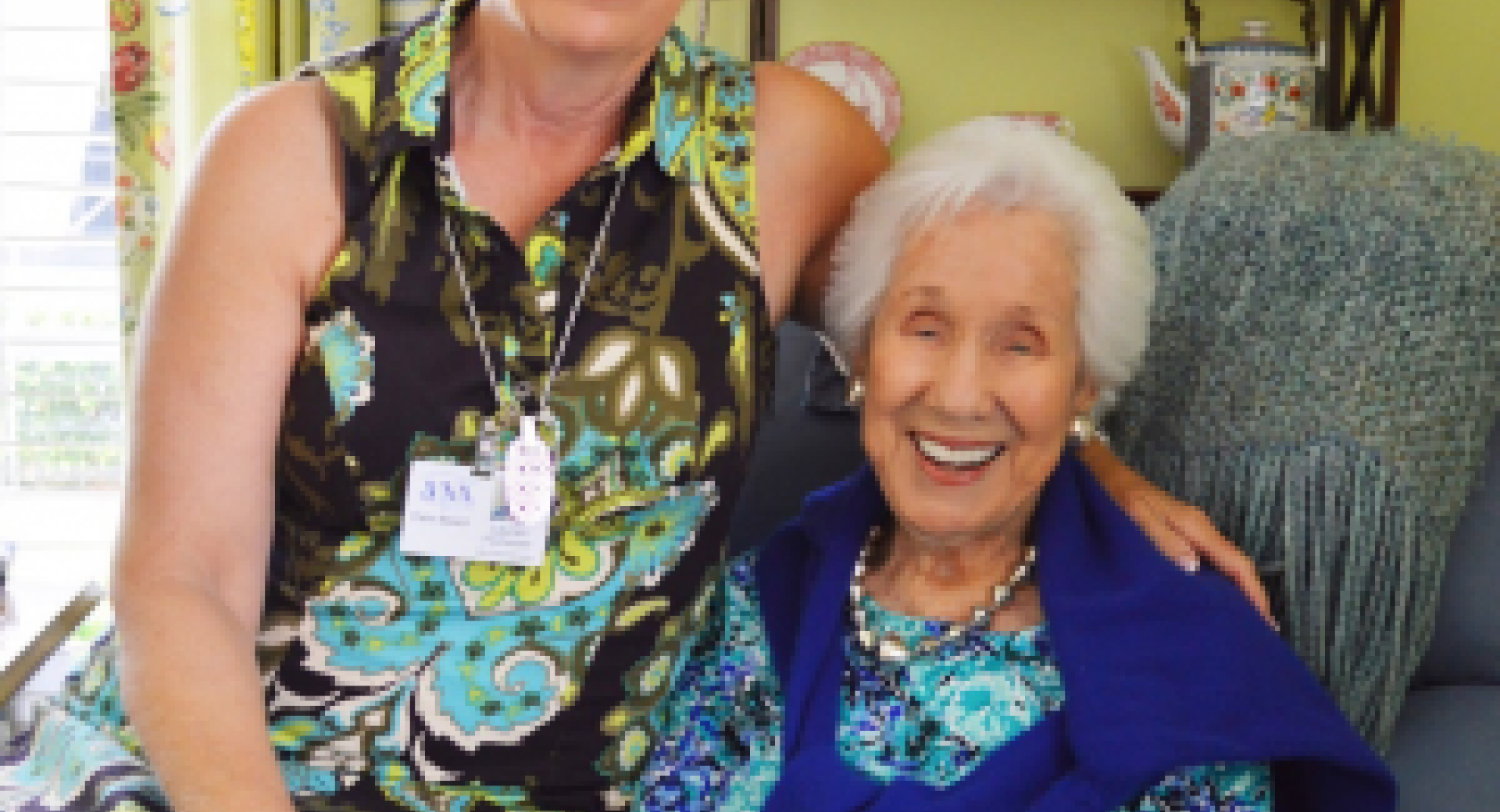 Patty is happy to be a client of the Visiting Nurse Association of Florida (VNA). Her children, grandchildren and extended family members live out of state, so Patty relies on her VNA Certified Care Manager, Lauren Fischesser, R.N., to help her remain active and independent. She also relies on Lauren to keep her family informed about her health and well-being.
In addition to managing Patty's medications, accompanying her to doctors' appointments, making sure she has any medical equipment she may need, and keeping her family informed, Lauren also provides companionship and brightens Patty's day in heartwarming ways.
"We have dinner together and spend holidays together," Patty said. "And we tease each other a lot."
"We really are good friends," said Lauren.
Patty was a client of Lauren's in the past when Lauren worked for a different home healthcare agency. When Lauren came to work for the VNA, she hoped that Patty, who was healthy when she left, would continue to
thrive under the direction of another Care Manager. Unfortunately, however, Patty fell ill and had to be hospitalized numerous times.
"She ended up getting sick and was in and out of the hospital," Lauren said. "When I heard that Patty wasn't doing well, I called her up and told her that I was going to be her Care Manager again because I couldn't stand to see her like that."
Patty was more than happy to have Lauren caring for her again. As she transitioned to VNA services, her health began to improve and she no longer spent most of her time in and out of hospitals. In fact, it's been several years since Patty was admitted to a hospital. Her children are also grateful for Lauren and all that she does for their mother.
"We feel good that we can support Mom's desire to remain in her home in Florida. With Lauren as our Care Manager, we know that she will deal with fluctuations in Mom's condition and will notify us if something serious is going on." – Patty's daughter, Julie
"She takes really good care of me," said Patty. "I'm very happy with her and with the VNA."
Like Lauren, our Certified Care Managers work with our clients, their extended family, and their doctors to address the day-to-day management of each clients' health, well-being, and personal independence. Our Certified Care Managers can:
Provide a strong support system for clients whose family is out of state
Keep family members informed of a loved one's well-being
Coordinate doctor's appointments, transportation, and transitioning to assisted living
Help control symptoms of both chronic and acute illnesses
Provide referral resources and helpful information to ensure a client's quality of life
Offer companionship and socialization
And much more