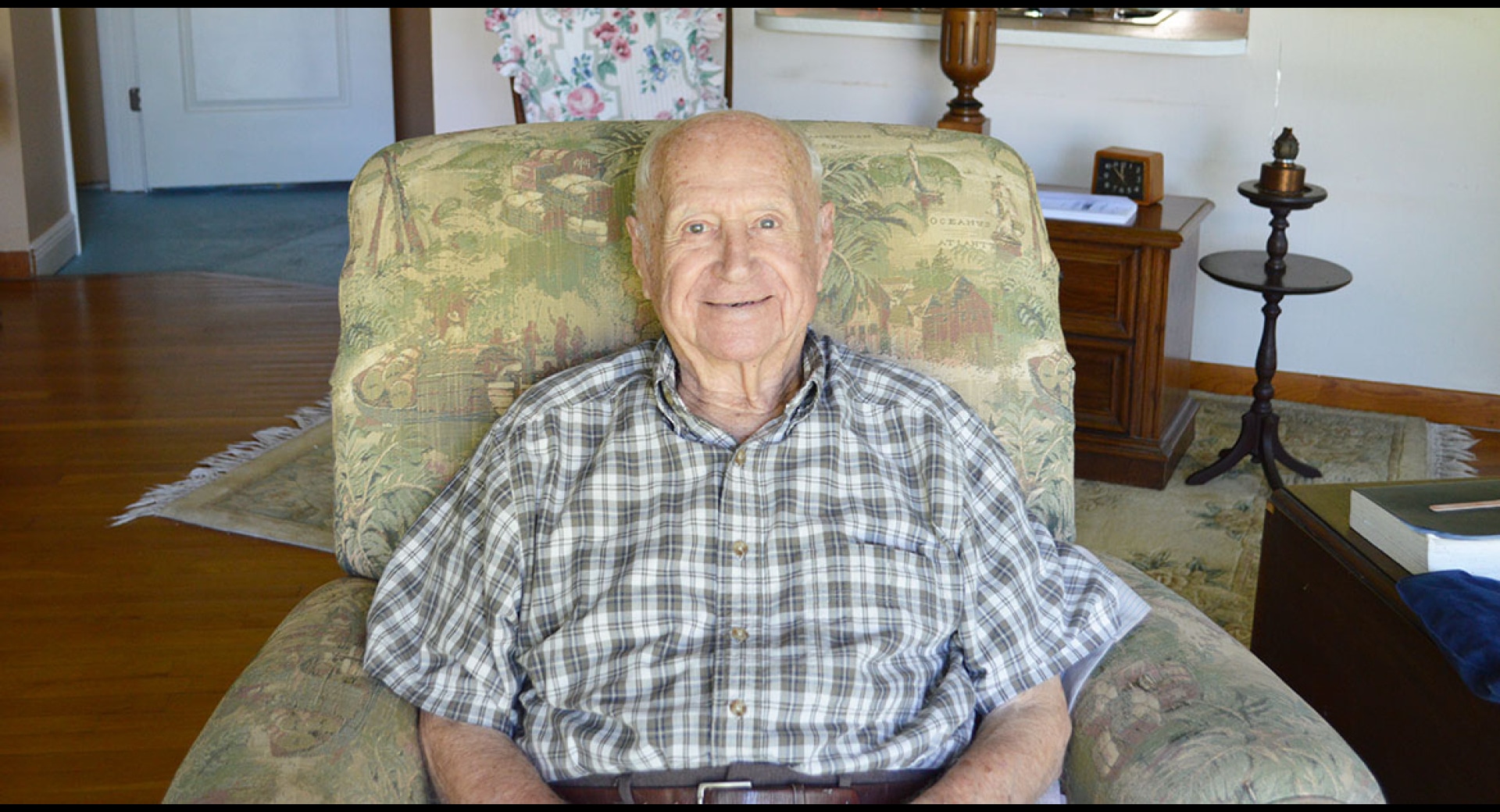 Judge G., a retired Air Force Master Sargent and Visiting Nurse Association of Florida (VNA) home health patient, recently celebrated his 102nd birthday. When asked what his secret is for longevity, he replied with a smile, "Always eat your vegetables."
Judge, who was born in Louisiana, began his military career in Virginia in 1940. The World War II veteran recounted his experiences following his enlistment in the Air Force. "I flew my plane right after the bombing of Pearl Harbor," he said. While stationed at Bowman Air Field in Kentucky, he met his late wife, Ann. They were married for 52 years and have two children and four grandchildren.
Judge began using the VNA's home health services after severe chest discomfort landed him in the local hospital. Thankfully, his pain was attributed to a non-life-threatening issue and he was released from the hospital with orders to begin using home health services. A friend of Judge's son recommended that he use the VNA because they had a very positive experience with the agency and their staff.
"A friend of ours had been using the VNA's services for their parents and they were very satisfied," said Judge's son, David.
Judge became a VNA patient and used his Medicare benefits to cover the cost of skilled nursing and therapy services. A few weeks later, he was able to use his Veterans Benefits as his primary insurance provider. Although Judge has access to physicians through Veterans Affairs (VA), he prefers to be seen at his residence by a primary care physician from Visiting Physicians of the Treasure Coast—the VNA's premiere doctor house call service. After Judge no longer needed skilled nursing services from the VNA, he opted to begin companionship and personal care services for assistance with activities of daily living.
When asked what he enjoys most about the VNA's home health services, Judge says he looks forward to the friendly banter with his favorite VNA home health aide, Rosemarie. "Rosemarie doesn't mind that I'm a stubborn old codger," he laughed. "Whenever it's time to take a shower or get dressed, I say I don't need to, but she says I do. And she won't stop saying it until I do it. She's maybe as stubborn as I am."
Rosemarie brings Judge to church every Sunday and that's when she makes sure he is looking his best. "I give him a special facial so he looks good for all of the ladies," she jokes. "He's one of my favorite clients!"
Judge says he also looks forward to his weekly trips with Rosemarie. "Once a week, she takes me to Mikata Chinese Buffet because it's my favorite place to eat."
Judge's son, David, says he has been very satisfied with the care his father has received from the compassionate and professional VNA staff members. "The aides are very compliant with the VNA's policies and procedures. They arrive on time and don't leave early. And most importantly, they take time to really engage with my dad," he said.
All health care services provided by the VNA are personalized and tailored to each patient's physical and emotional needs. The VNA covers a number of home health care services, including skilled nursing, home health aides, physical and neurological therapies, IV services, respite care, and more. Currently, the VNA operates eight office locations across Florida and accepts Medicare, VA benefits, and private health insurances. The VNA also offers in-home doctor visits through Visiting Physicians of the Treasure Coast and owns and operates three assisted living communities.